scheda evento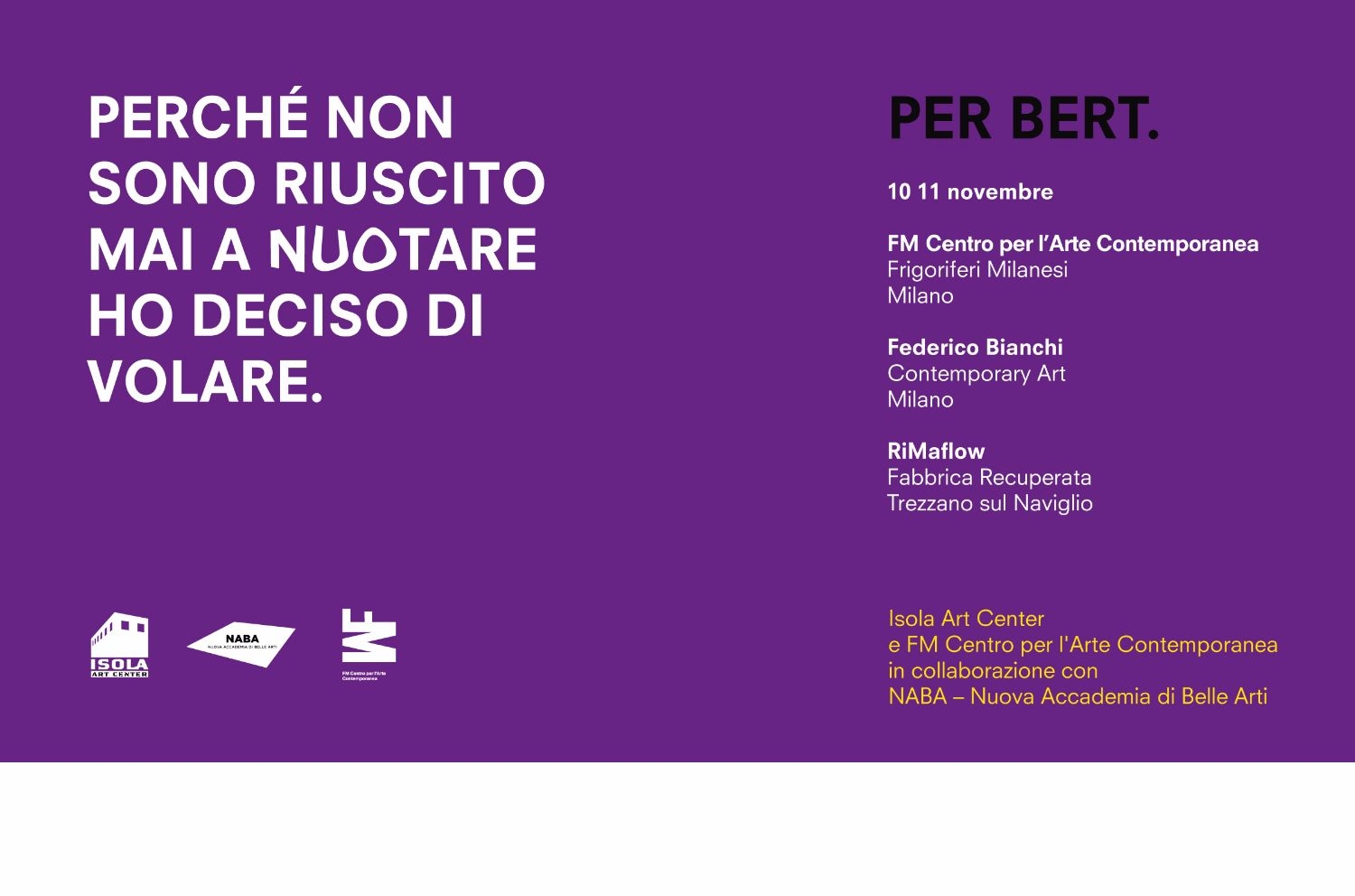 Because I could never seem to swim, I decided to fly. For Bert Theis
FM Centro per l'Arte Contemporanea - via Piranesi 10 Milano
In order to keep alive and reflect on the artistic heritage of Bert Theis, Isola Art Center, in collaboration with FM Centre for Contemporary Art and NABA – Nuova Accademia di Belle Arti, presents a series of events spanning over two days. During the event, there will be theoretical discussions, exhibitions and an opportunity to interact and exchange ideas with everyone who has known Bert.
PROGRAM

FRIDAY, 10 NOVEMBER 2017
2 - 5 PM
✸ FM Centre for Contemporary Art - Carroponte hall
A day of seminar with the participation of Christian Bernard / Piero Gilardi / Enrico Lunghi / Gerald Raunig / Marco Scotini / Tiziana Villani.
The panel will be preceded by a focus on OperaViva Magazine curated by Elvira Vannini with texts by various authors and an in-depth coverage of the event.
7 PM

✸ Federico Bianchi Contemporary Art (Via Carlo Imbonati 12, 20159 Milano)
Opening of the exhibition curated by Angelo Castucci for Isola Art Center with works by the new generations of artists who have worked with Bert Theis within the context of Isola Art Center.
Barbara Barberis / Fabrizio Bellomo / Kristina Borg / Paolo Caffoni / Serio Collective / Marco Colombaioni / Irene Coppola / Giuseppe Fanizza / Edna Gee/ Valentina Maggi Summo / Sara Marchesi / Renk Ozer / Pierfabrizio Paradiso/ Edith Poirier / Luca Pozzi / Matteo Rubbi / Mirko Smerdel / Camilla Topuntoli / santomatteo / Fernanda Uribe
SATURDAY, 11 NOVEMBER 2017
11 AM - 1 PM
✸ FM Centre for Contemporary Art - Carroponte hall
The second part and conclusion of the seminar with Hou Hanru / Evelyne Jouanno / Marco Senaldi.
1 - 5 PM

Lunch by Isola Pepe Verde with talks, projections, texts and other contributions by friends, artists, activists, curators, scholars and students.
6 PM
✸ RiMaflow (via Boccaccio 1, 20090 Trezzano Sul Naviglio)
Final event with the inauguration of a new conference hall dedicated to Bert Theis at the occupied and self-managed factory RiMaflow.
Inauguration of Sala Utopia with artworks by Edith Poirier, Barbara Barberis, Serio Collective and Nikolay Oleynikov created during the collaboration between Isola Art Center and RiMaflow.
Toasts and guided tours by RiMaflow.
Spaghetti dinner and DJ-sets.